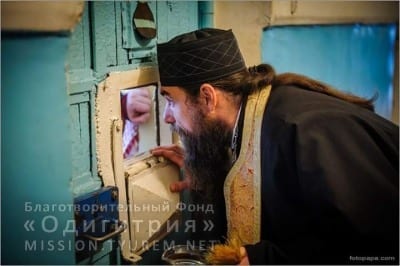 Odessa, Lustdorfska road, 11
Missions
Liturgy in the prison chapel of Resurrection
The prisoners confess, listen to epistles of the New Testament, the Gospels and a sermon. They partake of the Holy Mysteries of Christ. (1-2 people)
Confession, Communication
The priest walks around the cellblock, and communicates with the prisoners through the door window, handing out crosses, incense, candles. He prays, confesses, annoints those who really wants right here.
Hospital service.
The priest comes to the colony hospital, walking through the wards, praying for the sick, talking, anointing with sanctified oil, partake of the Holy Mysteries of Christ for seriously ill patients.
Development plans:
Create chapels in every of seven prison cellblocks, to give opportunity to any prisoner to speak to the priest.
Make at least minimal repairing in cells
Providing prisoners in need with basic necessities, warm clothing and footwear.