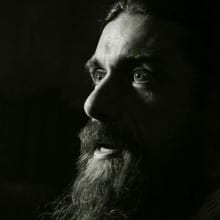 The Service of God in the penal colony is the most important event of all ongoing, for it prepossesses prisoners' souls to repentance and their lives – to improvement...
On sermons – repeat all the same thing: that every lie is sin. Same as deception and, and stealing...
And that one of the main conditions that the Lord will accept (host) us –is our desire not to touch the unclean (dirty) things - in any form: not to please our greediness and self-interest, not desire anything  that belongs to your neighbor, and in general -not to wish anybody the evil ...
To remember about eternity, consider one's place in it, and prepare for the Last Judgment...
For someone who has read in the Scriptures that those, who believe in Jesus Christ will not be judged, are mistaken:, we do not come ourselves to the Last Judgment, we are brought  to the Judgment and nobody asks us what we read, and thought. Only  those who obtained Mercy to live according to the Gospel, who fulfilled  the word of God, the commandments of Christ, and the will of the Heavenly Father shall not be called to the Last Judgment ...
The rest – we all will be there ...
Get ready ...
See you...